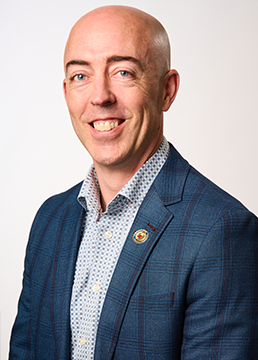 Rob Farrer, Director
Rob is a Sergeant in the RCMP who has spent the past 20 years policing in several areas throughout Canada including the Arctic Coast of the Northwest Territories, the Lower Mainland of British Columbia and the Okanagan which he currently calls home. Rob's experience includes policing across Federal, Provincial and Municipal areas including General Duty, GIS, Federal Serious and Organized Crime, Staff Relations, Rural and First Nations Policing. Rob was also part of the Security Team for the 2010 Olympic Torch Run and had the opportunity to travel with the Olympic Torch across much of Canada.
In additional to volunteering with local sports groups, in 2019 Rob undertook a walk to raise money for PTSD awareness. With the aim of walking one KM for each Member of the RCMP who had died in the line of duty since 1873, Rob completed a 239 km walk over a period of 57 hours and raised approximately $16,000 which was then donated to a charity which raises and trains PTSD service dogs.
Rob looks forward to continuing to help Members and their families through the NPFBF.
NPFBF Board Members
Charitable registration no. 780448692RR0001