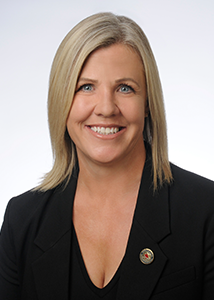 Michelle Boutin, Director
Michelle is a 22-year Member of the RCMP currently holding the rank of Staff Sergeant. She is currently the a Vice President of the National Police Federation. Throughout her career and at each rank, Michelle has worked Municipal, Provincial, and Reserve Policing all in K Division (Alberta). Her work has included General Duty, Commercial Crime, Staff Relations Representation and Member Workplace Services.
Throughout her service Michelle has volunteered within the communities she serves, by organizing youth events at local schools and outreach programs, participating with and teaching community crime watch groups and gathering food donations for the local food banks.
Michelle served on the Board of Directors of the Slain Peace Officer Fund for "K" Division from 2012-2018. This group of dedicated Board members approved Slain Peace Officer Fund financial assistance to troopmates and family members of those Members who were killed in line of duty. The SPOF also funded many Members over the years to represent the RCMP at Fallen Officer Funerals throughout Canada and abroad.
Michelle believes in contributing to life more than you take from it. She exemplifies compassion with a focus on putting Members and their families first.
NPFBF Board Members
Charitable registration no. 780448692RR0001