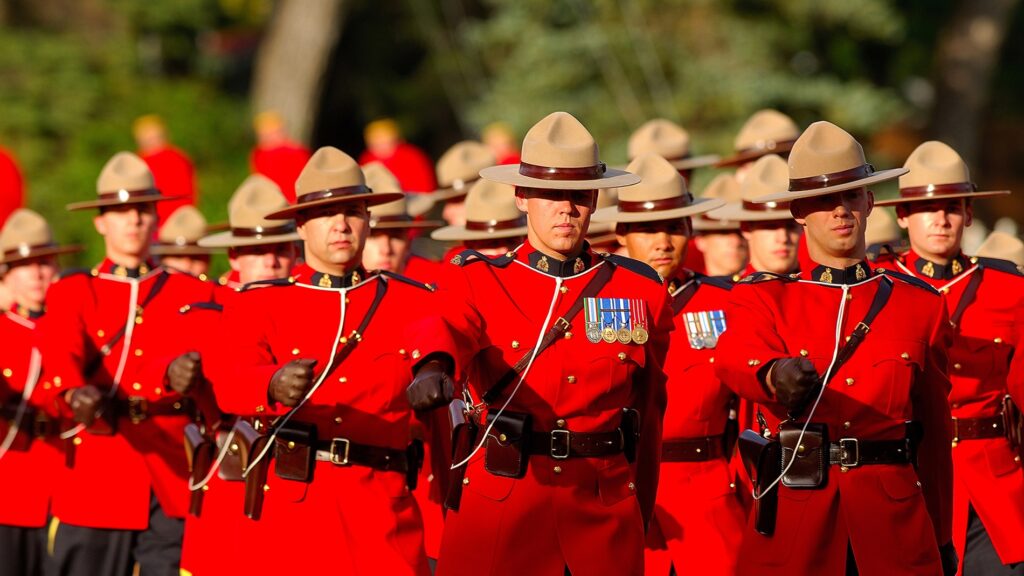 As the autumn hues turn into a crimson sea of poppies and the poignant occasion of Remembrance Day, Canadians remember and reflect on the sacrifices made by the brave men and women in uniform. Today, we embark in the journey that will take us through time and tradition, exploring the significance of Remembrance Day through interviews with RCMP Members from the Canadian Armed Forces. Join us as we uncover the layers of this National Day of Remembrance, honoring the past while hoping for a more peaceful future.
Many become Members of the RCMP out of a desire to serve their communities. For some, this extends further into a desire to serve their country by holding dual roles as RCMP police officers and members of the Canadian Armed Forces Reserves. For these heroes, daily life can be a tale of two uniforms.
Canadians owe a particular debt of gratitude to these Members who have dedicated a significant part of their lives to keeping us safe across many scenarios and situations.
We got an inside scoop from four current RCMP Members who also hold important roles with the Canadian Armed Forces (CAF). Check out their stories below.
Bryan Gardner: RCMP Constable, Chief Warrant Officer, Advisor to the Commander of the Canadian Army Doctrine and Training Centre for Primary Reserve Issues
Cst. Bryan Gardner joined the CAF as a Primary Reservist in 1992 following a stint with the Army Cadets and after his brother had joined in 1990. Both of his grandfathers also served for their countries, with one serving in the CAF (Royal Canadian Artillery), and the other in the Royal Navy (U.K.). After joining the RCMP in 2004, he left the CAF but re-engaged in 2007.
Bryan also found many benefits of being an RCMP Member when he engaged with the CAF, and in using the skills and training opportunities available to him through the CAF in his RCMP career.
"The CAF has provided me with many hours, days, weeks and months of leadership training that I am able to tap into when required for the RCMP. The CAF runs many leadership courses in which we are assessed in situations as to our effectiveness as a leader. This is done at various levels, and you need these courses to move up in rank in the CAF. Further, the CAF also taught me a lot about tactics and obviously firearms. The RCMP has been the benefactor for this as I am both a firearms instructor and PPSI."
In Bryan's time as a Member, he learned about his ability to be flexible and to negotiate when dealing with individuals in the CAF, namely subordinates, peers, and commanders alike. It has also enlightened him as far as seeing CAF members, especially reservists, as persons wanting to serve their country and their communities.
Ultimately, Bryan believes that sense of service is important in society and appreciates both CAF members and Mounties for their service to country.
Arnold Matibag: RCMP Corporal, Chief Warrant Officer & Regimental Sergeant Major, B.C. Regiment (Duke of Connaught's Own)
It's been nearly 30 years since RCMP Corporal, Arnold Matibag, joined the British Columbia Regiment (Duke of Connaught's Own, DCO) – an Armoured Cavalry regiment tasked with providing qualified cavalry soldiers to assist the Regular Force in meeting Canada's military commitments. There, Cpl. Matibag is responsible for the troop's administration and oversees troops training. He is also the career manager for the Regiment's Senior Non-commissioned Officers (SNCOs), the Junior Non-commissioned Officers, and is the advisor to the commanding officer in terms of discipline, dress regulations and the military justice system.
There are many challenges in being an RCMP Member and Reservist in the CAF, according to Cst. Matibag.
"Some of the benefits of being an RCMP member while serving with the CAF is the honour of serving Canada in a military capacity and leading the Military Institution. I find that the leadership, ethics, and values of the Canadian Forces has a higher standard that I apply while employed with the RCMP. Requesting time off to participate in my military commitments is achievable due to the full support and flexibility of my Watch Commander and OIC.
Andrew Curtis: RCMP Corporal / 2nd Lieutenant, Rocky Mountain Rangers Regiment
Corporal Andrew Curtis was motivated to join the Canadian Armed Forces for several reasons.
"My motivation to join the CAF was due to two positive influences: the first my grandfather, Roy Curtis, who'd served as a medic and stretcher-bearer during the Second World War; and the second was a cousin, Marshall DeNys, who was in the U.S. Airforce as a C-130 loadmaster."
It wasn't until university that Cpl. Curtis finally made the commitment to enlist.
"While in university, a couple friends were actively exploring the idea of joining the CAF and we decided to enrol together. While they joined the Loyal Edmonton Regiment, I made the decision to join as a medic with 15 Field Ambulance (then known as 15 Medical Company) to follow in my grandfather's footsteps."
Andrew is currently a newly commissioned 2nd Lieutenant with the Rocky Mountain Rangers, a light infantry regiment with a presence in Prince George and Kamloops. The Regiment has a storied history of service including the retaking of Kiska, an Alaskan Island in the Bering Sea, and several battle honours from the First World War and Afghanistan.
"My current role is with the leadership team of the personnel training platoon, with the intent of preparing new recruits for the military profession and future deployments, by ensuring they can be successful with their mandatory training such as Basic Military Qualification and Developmental Phases."
According to Andrew, having gone through RCMP training helped prepare him for his current role with the CAF, and brought a new skillset he could employ to teach the next generation of CAF recruits.
"RCMP Depot Training has helped prepare me for continued CAF service by instilling a deeper professional bearing gained from drill, deportment, self-control, mental resilience, and physical fitness. Continuously applying a policing perspective to risk, safety, societal implications has also benefited the CAF in training and operational planning."
The benefits flow both ways, too. Skills Members pick up through experiences in the CAF can also enhance their ability as a police officer.
"Whereas the RCMP runs on a continuous operational pace to maintain societal peace and order (with instances of stabilizing sporadic and chaotic situations), the CAF excels is an ability to train and develop leaders to plan and execute complex domestic and international operations, where there is no room for failure. These competencies are highly applicable to RCMP especially in the areas of operational planning and design, organizational structure, logistical support, etc."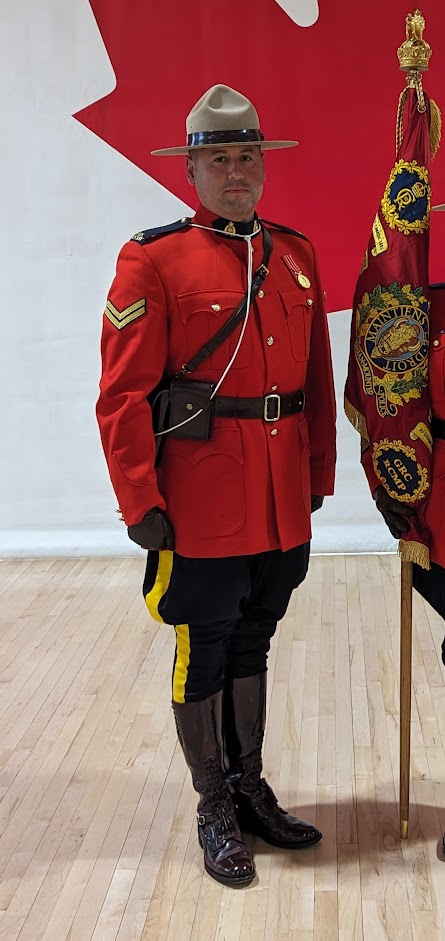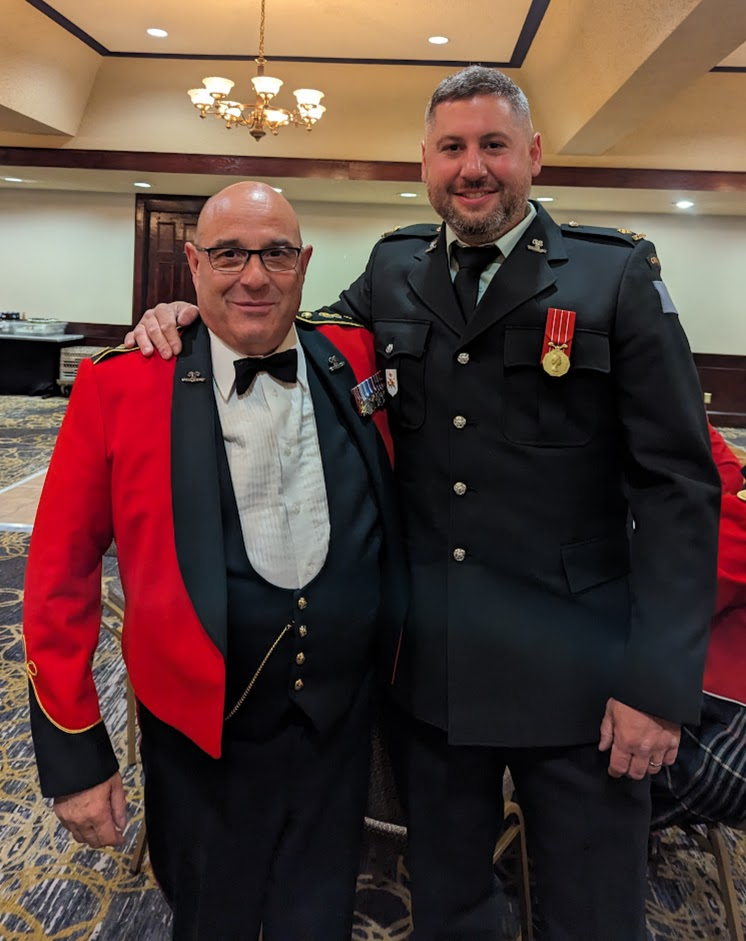 Ané Roodt: RCMP Constable, Artillery Bombardier – 38 Brigade Artillery Tactical Group at the CAF
Cst. Ané Roodt is a farm girl from South Africa. She grew up in turbulent times with danger, terrorists, and extremists being part of life. She remembers learning about different types of hand grenades, what they looked like and how to hide from it right at the age of six. Car bombs and bomb drills in school were a regular teaching and practice there as opposed to the good old fire drills they teach in most North American schools.
For Ané, her dream to be in the military started at 17, wanting to go to military college, but her dad refused and sent her to university. However, once Ané immigrated to Canada and added a decade or two of life experience, she applied and was accepted to the CAF, and was later accepted to the RCMP after being deferred in an earlier application.
Many similar traditions can be found within the RCMP and CAF. Marching bands and troop formation drills have always been an interest for her. She enjoys ceremonial duties, drills, and everything that goes along with it – both in the CAF and in the RCMP.
"I've been involved with the RCMP/CAF for almost five years. My rank/function is Bombardier – Artillery, which is a branch of the armed forces that uses heavy firearms to fire explosive-filled projectiles across distances in excess of 10 km. The purpose of artillery is to provide support to other arms in combat or to attack target, especially in-depth. Artillery can have different missions, such as suppressing or neutralizing enemy fires, striking high-value targets, breaking up enemy force concentrations, and providing fire support for manoeuvre warfare".
Her CAF role helps Ané in her day-to-day life, allowing her to hone and perfect important skills as a police officer.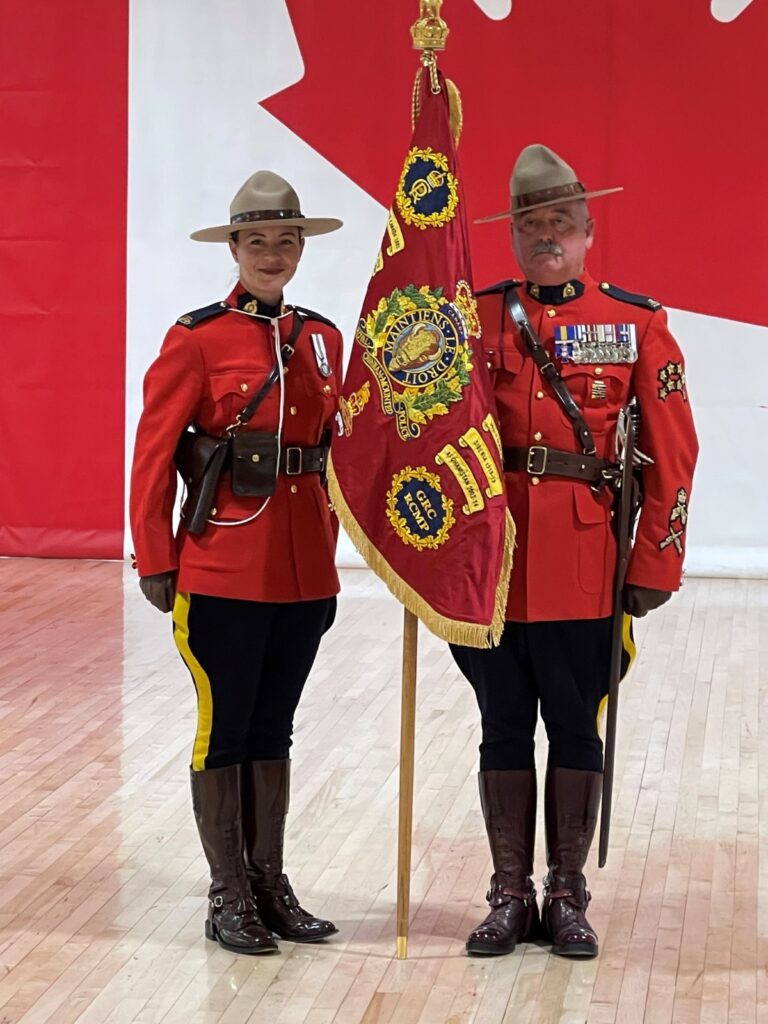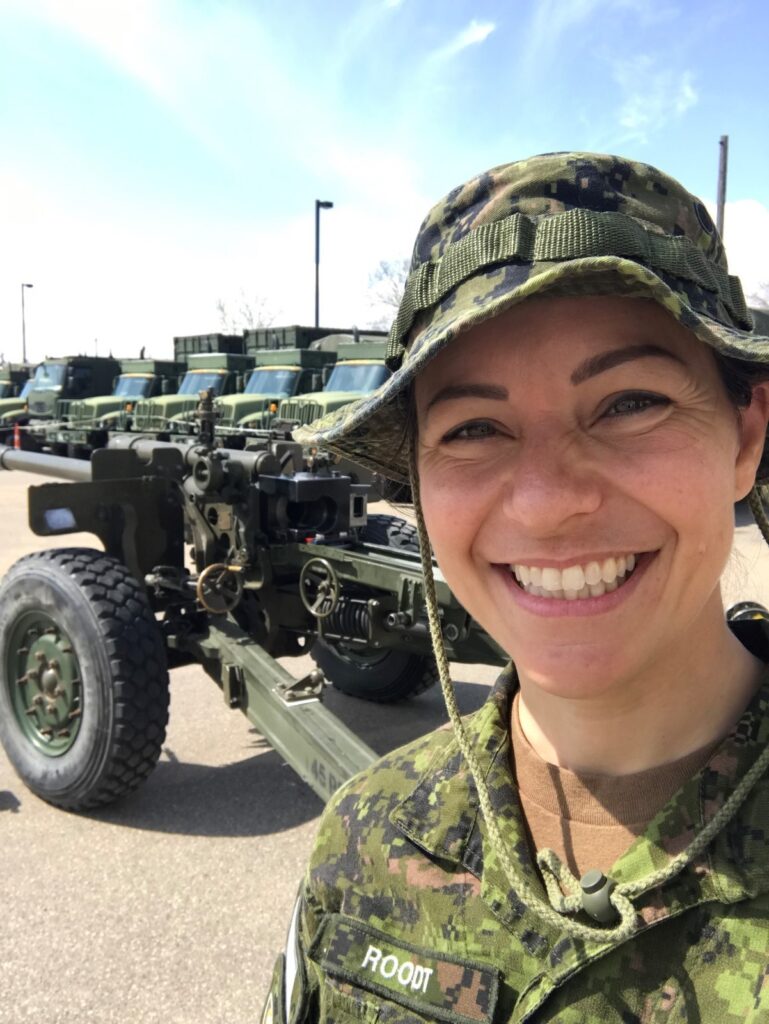 Remembrance Day serves as a reminder of the sacrifices, resilience, and unity within the Canadian Armed Forces. It's a day to commemorate those who have served and continue to serve, as well as to express our gratitude for the freedom and security they provide. The interviews with these dedicated members of RCMP and Canadian Armed Forces underscore the importance of Remembrance Day in honouring our heroes, preserving our history, and ensuring a brighter future for generations to come.
This Remembrance Day, let us reflect, show appreciation, and stand united in remembrance of those who are serving, and those who have served our nation.
We hope you'll take a moment on this and every Remembrance Day to thank and acknowledge all those who serve and have served.