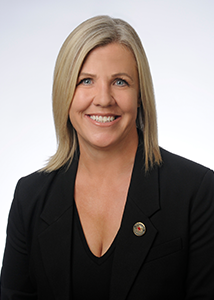 About Michelle Boutin
Michelle was born in Toronto and raised in Belleville, Ontario. After she completed her Diploma in Police Education Studies at Sir Sandford Fleming College, she moved to British Columbia where she began a career in security. She provided security services in a variety of venues including the Tokyo Corporation at the Pan Pacific Hotel, as well as Orca Bay Sports and Entertainment at General Motor Place in Vancouver, B.C. Michelle was hired by the Correctional Services of Canada as a Corrections Officer and was posted at the Kent Maximum Security Penitentiary in Agassiz, B.C. where she was recruited by the RCMP in 1997. After graduating from Depot in 1998, she was posted to Fort McMurray and Sylvan Lake in AB, the Commercial Crime Section as a Corporal Supervisor in Edmonton AB and Calgary AB, Sergeant Detachment Operations NCO in Sylvan Lake AB, Staff Sergeant of the Staff Relations Representative Program and Staff Sergeant North West Region Supervisor of the Member Workplace Services Program.
As an RCMP Member, Michelle became involved in labour relations when she witnessed Members having difficulty resolving workplace issues. She recognized deficiencies in the RCMP's internal labour relations program and knew positive changes could only be made with the right people in the right positions. When the Supreme Court gave Members the right to choose to be represented by a bargaining agent, she became a voice for RCMP Membership on important issues and communicated the concerns of Members across the country to RCMP management.
In November 2019, she was elected as a Vice President for the National Police Federation and assumed that role in January 2020. Her expertise is primarily in the areas of pay, benefits and compensation where she has done the research and compiled the information necessary to ensure these parts are protected and enhanced in our future Collective Agreement. Michelle is also the Chair of the Member Services and Human Rights Committee, where the National Police Federation will focus service delivery from the Members' perspective. The Member Service Strategy is aligned to the NPF Strategic Priorities to protect the workplace rights, health, and safety of Members and to enhance appreciation and credibility of NPF. The strategy will contribute to achieving a seamless experience for our Members across our organization.
Key Accomplishments:
Served as a General Duty RCMP Member in Municipal, Rural and Reserve policing environments as well as Provincial and Federal Sections.
NPF fully certified in July 2019; elected Nationally as Vice President in November 2019
Played an integral part in Member negotiations with RCMP management for better understanding and application of Members benefits, pay and compensation entitlements, resulting in hundreds of thousands of dollars being returned to Members.
International Foundation of Employee Benefit Plans – Foundations of Trust Management Certification
RCMP Life and Disability Insurance Plans/Insurance Advisory Committee Member – Appointed by Treasury Board
RCMP Pension Advisory Committee Member – Appointed by the Public Safety Minister
Labour Law Education – Accommodation Law Certificate – legal breakthroughs in duty to accommodate, impacts on union and employer representatives in Canada