Gordon Clarke $5,000 Bursary
The Gordon Clarke Bursary is awarded to one post-secondary student from anywhere in Canada each calendar year in the amount of $5,000.
About Gordon Clarke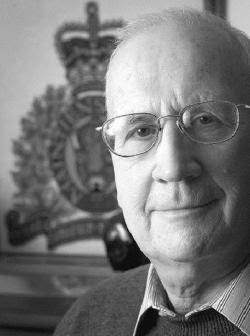 As a dedicated retired Member of the Royal Canadian Mounted Police (RCMP), Gordon Clarke had a long and meaningful RCMP career. Gordon has continuously served Canadians and the Membership in various capacities for over 64 years.
Originally from New Brunswick, Gordon began his career with the RCMP at Depot Division in Regina in May 1957. He served faithfully, with regular and well-deserved promotions and transfers:
1958 -1966: Constable in Regina, SK and New Glasgow, Guysborough, Halifax, Antigonish and Stewiacke, N.S.
1966 – 1969: Corporal in Halifax, N.S. and Ottawa, ON.
1969 – 1975: Sergeant in Ottawa, ON. and Halifax, N.S.
1975 – 1976: Staff Sergeant in Halifax, N.S.
1976 – 1985: Inspector in Halifax, N.S. and Ottawa, ON.
1985 – 1986: Superintendent in Ottawa, ON.
1986 – 1992: Chief Superintendent in Vancouver, B.C.
1992 – 1994: Assistant Commissioner in Ottawa, ON.
Gordon's last posting was as the RCMP's Chief Financial Officer (CFO), and a Member of the Senior Executive Committee (SEC), along with the Commissioner and several Deputy Commissioners. In this role, he was responsible for the entire RCMP budget. In 1994, he received the Commissioner's Commendation for Outstanding Service.
Upon his retirement from the RCMP in 1994 after 37 years of exemplary service, he was asked to help set-up and run the RCMP Foundation. He served as the Foundation's Executive Officer from 1994 to 1997. When he departed, the RCMP Foundation hired several people to replace his diverse range of duties.
Gordon is widely known and loved as a very caring and compassionate individual; highly respected by all who have met and known him. He is extremely knowledgeable about the internal operations of the RCMP and all areas of Finance.
Gordon was asked to help set up the Mounted Police Members' Legal Fund in 1997, a not-for-profit corporation promoting the improvement of Member conditions, employment, and work. Gordon even arranged a loan in his own name to get the Legal Fund started, after which it took approximately a year before Gordon received proceeds from Member dues to repay the loan.
Since his retirement from the RCMP Gordon has performed all his roles on a volunteer/honourarium basis. Over this 20 plus year period Gordon has worked from his home, effectively saving Members from paying for office space and other related expenses.
Gordon has provided his services, expertise and dedication out of deep respect for those who serve Canadians every day as Members of the RCMP. Gordon has never sought out recognition for his efforts – instead being quietly content with his work, supporting Member rights.
The National Police Federation Benevolent Foundation is proud to honour Gordon's career and invaluable contributions by creating this annual bursary in his name.
Apply for the Gordon Clarke Bursary
The Gordon Clarke Bursary is awarded to one post-secondary student from across Canada each calendar year, in the amount of $5,000.
Charitable registration no. 780448692RR0001