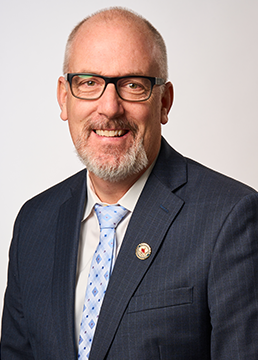 About Tim Pettit
Although Tim grew up in Nova Scotia and still refers to it as home, he has lived and worked from coast to coast to coast. Tim joined the RCMP from Inuvik, N.W.T. and, after graduating from Depot in 1993, was posted to Surrey B.C. There he worked General Duties, General Investigation Section, Provincial Auto Theft Task Force and Serious Crime. Tim transferred to Ottawa in 2005, where he worked in the Source Development and Criminal Intelligence Units. In 2011 Tim transferred to London, Ontario, where he worked in Career Development & Resourcing and in late 2013, Tim was elected to the Staff Relations Representative Program for "O" Division. In 2016 Tim transferred to Windsor, Ontario working in Federal Serious and Organized Crime Investigations until being elected as a Board Director for the National Police Federation in the fall of 2019. Tim officially started with the NPF in January 2020.
As an RCMP Member, Tim has always supported the rights and well-being of fellow Members. Whether it was in the role as a Career Development and Resourcing Advisor, Staff Relations Representative, Director of the Slain Peace Officer Fund or as a Director of the NPF, the constant has always been to support his colleagues. Tim has observed the good, the bad and the ugly in his career. Running for election as a Board Director for the National Police Federation was an easy decision and is the start to ensuring meaningful change within the RCMP. As a Board Director, Tim is now focusing on meaningful change by providing legal and advocacy support services to Members on a host of workplace issues including pay, benefits and resourcing – to name a few.
Key Accomplishments:
Elected as the inaugural NPF Board Director for "O" Division in January 2020.
Served in the RCMP for 28 years across four different divisions at the Municipal, Provincial and Federal levels.
Served in a wide variety of policing functions including General Duties, General Investigations, Serious Crimes, Source Development, Criminal Intelligence, Staffing, Staff Relations, and Federal Serious and Organized Crime.
Led Canadian based training initiatives for international policing partners from twenty-one different countries abroad.
Former Director of the Slain Peace Officers Fund for "O" Division from 2014 until 2020.
Currently serving as the inaugural Chair of the National Police Federation Benevolent Foundation.
Elected as a Staff Relations Representative from 2013-2016.
Served on the National Staff Relations Committee for Human Resources from 2014-2016 advocating on behalf of the Membership on HR related issues.
Currently serving on the Pension Advisory Committee and National Dental Board review committees as a National Police Federation Representative.