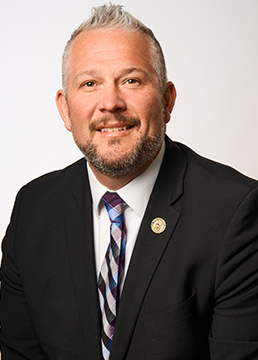 About Steve Madden
Steve was born and raised in the township of New Waterford on Cape Breton Island, Nova Scotia. Steve studied Business and Criminology at St. Mary's University. After obtaining his Bachelor's degree, Steve was posted to the Coquitlam Detachment in the Lower Mainland of British Columbia, serving four different communities from 2006 to 2011. Working General Duty in the Lower Mainland of B.C. fulfilled Steve's dream of becoming a Member of the RCMP, where he had many lasting memories from being "on the road." He then served in the Prime Minister's Protection Detail under two prime ministers from 2012 to 2018. Steve has been deployed to nearly every province and territory in Canada, as well as countless international deployments. Steve's career led him to be a Member Workplace Advisor for NHQ and National Division, providing advice, guidance, assistance, and support to RCMP Members for internal matters.
As an elected Board Director for the National Capital Region in Ottawa, Steve is a strong advocate for RCMP Members' rights. Steve is passionate about fighting for Members' workplace safety, dismantling the stigma about mental health in policing, protecting Members' sick leave and disability benefits, and fighting for Members' proper compensation. Steve will continue to dedicate himself to promoting and enhancing the NPF to be a world leader in a unionized policing environment. Steve is grateful to be elected by the Members and to represent the NPF. The day-to-day duties performed by Members domestically and abroad inspire Steve to deliver results each and every day.
Key Accomplishments:
Served as a General Duty Member in Coquitlam, Port Coquitlam, Anmore, and Belcarra from 2006-2011.
Served as a Bodyguard to the Prime Minister under the Right Honourable Stephen Harper and the Right Honourable Justin Trudeau from 2012-2018.
Was a Member Workplace Advisor for NHQ and National Division from 2018-2020.
Co-Chair of the NPF Equity, Diversity, and Inclusivity Steering Committee and a committee member of the RCMP Equity, Diversity and Inclusivity working group.
National Policy Health and Safety Committee member as an elected employee representative to advance Member concerns over Canada Labour Code violations and general workplace safety.
Sick Leave and Disability Case Management Committee member protecting Members' sick leave and enhancing Members' disability benefits.
NPF Governance and Nomination Committee member, as well as NPF Grievance Committee member.