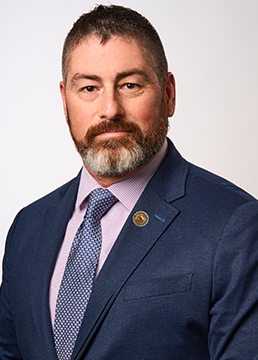 About Jeff McGowan
Jeff McGowan joined the RCMP in Nova Scotia in April 1994 and spent the next 6 months in Montreal taking French language training, before heading off to Regina and graduating from Depot in mid-1995. He spent the first nine years of his service in General Duty, having been posted to Slave Lake, Alberta, Watson Lake, Yukon Territory and finally Whitehorse, Yukon Territory. In January 2004, Jeff transferred to the Whitehorse General Investigation Section (GIS), where he remained until July 2007. In 2007, he returned to Alberta and was posted to the Edmonton Drug Section on the Clandestine Lab Team, then to the ALERT/Gang Unit, full time ERT, and the Staff Relations Representative (SRR) program. After the dissolution of the SRR program, he was elected as a Member Workplace Advisor before successfully running for the NPF Director position.
Jeff sits on the NPF's National Policy Health and Safety Committee, as well as the Conduct, LAPE, Reintegration, PARE Review Committee, RCMP Vets, Uniform and Equipment, and Conduct Measures Guide Review Committees. In the winter of 2022, he was a key figure in the NPF's Keep Alberta RCMP Community Engagement Tour, which advocated against the government of Alberta's proposal of a provincial police force and saw the NPF meet with more than 1000 Albertans across 32 communities and five virtual sessions, alongside several meetings with key stakeholders.
Jeff currently lives in Stony Plain, AB with his wife and two daughters, and loves to fish and barbecue in his spare time.
Key Accomplishments:
From 1995 – 2007 served in General Duty positions in Slave Lake, Watson Lake, and Whitehorse, before transferring to Whitehorse GIS.
Selected in 2003 for the M Division ERT, completed the ERT Basic Assaulter Course in 2004.
Transferred to K Division Federal Drug Section in 2007.
Assaulter/Breacher before attending the Sniper Course in 2009.
Transferred to ALERT/Gang Unit in 2010, Integrated Unit with Edmonton City Police.
Transferred to full time ERT K Division North Sniper role in 2012.
In May of 2014, left ERT for the K Division Staff Relations Representative (SRR) Program.
In 2016, the SRR program was dissolved, and Jeff joined the Member Workplace Advisor unit.
Central figure to the Keep Alberta RCMP Community Engagement Tour, visiting 30/32 municipalities and participating in 5 virtual engagement sessions.