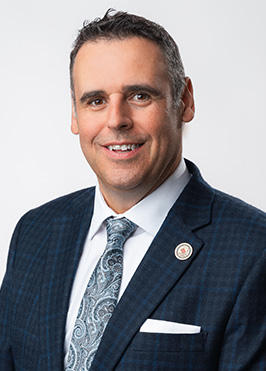 About Bobby Baker
Growing up in an RCMP family in Manitoba and Yukon inspired Bobby to join the RCMP. He attended the University of Winnipeg and the RCMP Depot Training Academy before commencing his RCMP career in front-line policing and later evolved to Major Crimes. Bobby's career gave him the opportunity to work across Canada with extensive specialized training and experience. Foremost, his time growing up and working in rural, northern, and Indigenous communities inspired his passion for the rights of Indigenous and vulnerable people. Bobby found himself frustrated with the lack of organizational change – the need to adapt the RCMP to the unique multi-faceted challenges and mandates of a massive and iconic organization. Driven with a strong desire to improve the unique working conditions for RCMP Members and modernize the RCMP to provide an improved and safer service to Canadians, Bobby was elected to serve as Staff Relations Representative in 2014. With the formation of the National Police Federation, Bobby was elected to its inaugural Board of Directors in 2019. As a Member of the Collective Bargaining Team, he is focused on negotiations for the RCMP's historic first Collective Agreement to accomplish these goals. Bobby's wife Jana, a Treaty Member of Peguis First Nation, has shared many northern work experiences as a Federal Northern Nurse. Bobby, Jana, and their two girls enjoy traveling, camping, and fishing throughout Canada (particularly the Territories) when time permits.
Key Accomplishments:
Staff Sergeant in the RCMP with over 24 years service in both plain clothed and front-line policing.
Served as a front-line RCMP investigator, supervisor, and area commander throughout Northern and Southern Manitoba, from rural and municipal settings to isolated remote fly-in communities.
Major Crimes investigator, supervisor, and unit commander in homicide and cold case units.
Team Commander for over two-dozen homicide and cold case investigations from 2004-2014. Lead investigator for many complex and high-profile cases, including the disappearance and murder of a young Indigenous girl (Phoenix Sinclair) that garnered extensive National Media coverage.
Represented the RCMP with testimony before the Phoenix Sinclair Inquiry in 2009.
Founded and led the Manitoba RCMP's "Missing & Exploited Persons Unit" for both missing persons and high-risk vulnerable persons in 2016, focusing on Indigenous persons.
Testified in-person on behalf of the RCMP before the United Nations Committee for the Elimination of Discrimination Against Women (UN CEDAW) Inquiry in 2014.
Advocate in modernizing RCMP resourcing models for rural and Indigenous policing as one of the driving forces in the change in modernizing policing service delivery for Manitoba since 2016.
Merged multiple RCMP detachments involving various levels of government contracts to create Pembina Valley RCMP Area in 2019, to modernize and improve service delivery for Manitobans.
Elected to RCMP Staff Relations Representative in 2014, the pre-Association RCMP Labour Model.
Elected to the inaugural Board of Directors for the National Police Federation in 2019.
With the formation of the National Police Federation, which fully certified in July 2019, Bobby was elected by his fellow officers to the inaugural Board as Prairies & North Region Director.