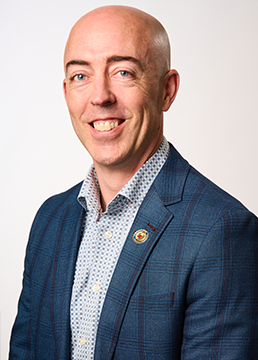 About Robert Farrer
Robert joined the RCMP at the young age of twenty-two. Growing up on a farm in Saskatchewan, Robert saw the opportunity to experience Canada and connect with people in different regions with the RCMP. Using his passion for fitness and travel, Robert had the opportunity to work as a security runner for the Olympic Torch Bearing Team on their tour across Canada in 2009 and 2010. In 2019, Robert completed an initiative where he walked for 57.5 straight hours and a total of 239 kilometers to highlight PTSD awareness among first responders.
Robert takes pride in supporting RCMP Members across the country. With such a diverse and skilled workforce, he understands the opportunities there are to be constantly improving the Member experience within the RCMP, and is committed to ensuring the RCMP is a leader in Member relations.
Key Accomplishments:
Has over 20 years of diverse experience within the RCMP. From being stationed in the Arctic Coast of the Northwest Territories to the Organized Crime Unit in B.C., Robert has worked in the smallest to the largest of RCMP detachments in rural policing, major crime, and federal policing units
Studied Law and Policing, Human Rights, and other legal aspects of policing at Dalhousie University
Received several distinguished awards throughout his career, including the Queen Elizabeth II Diamond Jubilee Medal (2012), administered by the Chancellery of Honours at Rideau Hall, for his significant contributions to the province of B.C. as well as the Northwest Territories.
Was part of the Internal Affairs Committee as an SRR during the rollout of the Legislative Reform Initiative
Having assisted Members for over 12 years, Robert represents Members in Collective Agreement negotiations and is the Co-Chair of the NPF's Collective Bargaining Committee, which negotiated the RCMP's first-ever Collective Agreement in June 2021.
Robert was a panelist at the 2020 Law and Policing Conference to discuss Civilian Oversight as well as the Community/Police/Oversight (CPO) joint forum, where he discussed the role of Body Worn Camera's in policing.